My vector mug
Written on September 7, 2016
After my recent move back to France, I realized I needed to toss all my business cards since they were obsolete, and perhaps get new ones. I considered doing something simple and sober, name and title on some fancy paper but then for some reason I thought I'd try something a little more fun and unusual. My vector self on a business card.
Vector drawing is fun.
I played with Corel Draw (version 3!) a lot when I was a kid, so I have a decent grasp on the workflow and tools involved, and I thought doing a bit of vector drawing was going to be a good opportunity to finally get into Adobe Illustrator, but I didn't really want to subscribe to their Creative Cloud stuff. Also Inkscape refused to work, so instead I bought a licence for Affinity Designer. It turns out it's a good product and it does what it does fairly well, but it's also a bit limited. No perspective deformation or "fancy" things like that.
Drawing what?
Anyway. Since I'm really into two things, board-riding and keyboard-smashing, I figured I'd try to show those two aspects of me in the picture.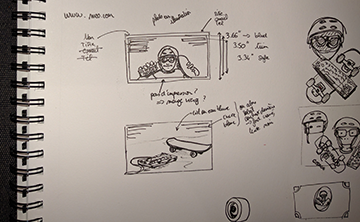 The final thing
It's not amazing, but it's close enough, and quirky enough to be fun and memorable on a business card, which is a good thing to have. Of course that wouldn't fly if I was a lawyer or if I had some kind of grown-up job, but I'm a pixel pusher, so I think it's alright.
I haven't had them made yet, no rush. Also I'm not sure what fonts to use. Ugh. I hate picking fonts!